Although many believe they need a large backyard to have a pool, that is not always true! With careful planning, building a pool in even the smallest backyards is possible. When designing a pool for limited space, it would be best to consider some things.
Scale Your Yard
When you have limited space, selecting the right size and shape of the pool is important for your needs. A smaller, more compact pool will take up less room than a large one. But it would be best if you also considered the depth of the pool. You'll need a deeper pool if you plan on using the pool for swimming laps. However, a shallower pool will suffice if you want to cool off on hot days.
Another thing to consider is the shape of the pool. If you have a long and narrow backyard, then a rectangular or kidney-shaped pool would be ideal. But a round or square pool would be better if your backyard is round or square.
Know Where to Place the Pool
Where you place the pool in your backyard is also crucial. You want to ensure the pool is not too close to any structures, such as your house or a shed. The pool should also be sunny so you can enjoy it during the day. Also, ensure the pool is in a level area of your yard. This will make it easier to install and maintain.
Add Some Features
When you have limited space, you must be selective about the features you include with your pool. If you want a pool for swimming laps, you'll need to include a diving board or other means of getting into the deep end. But a shallow end will suffice if you want a pool for cooling off. You can add a water slide, waterfall, or other features to make your pool more enjoyable, especially if you have children.
You can also add some features to help maintain your pool, like an automatic cover that can help keep your pool clean and prevent debris from entering. A saltwater system can help keep your pool clean and prevent algae growth.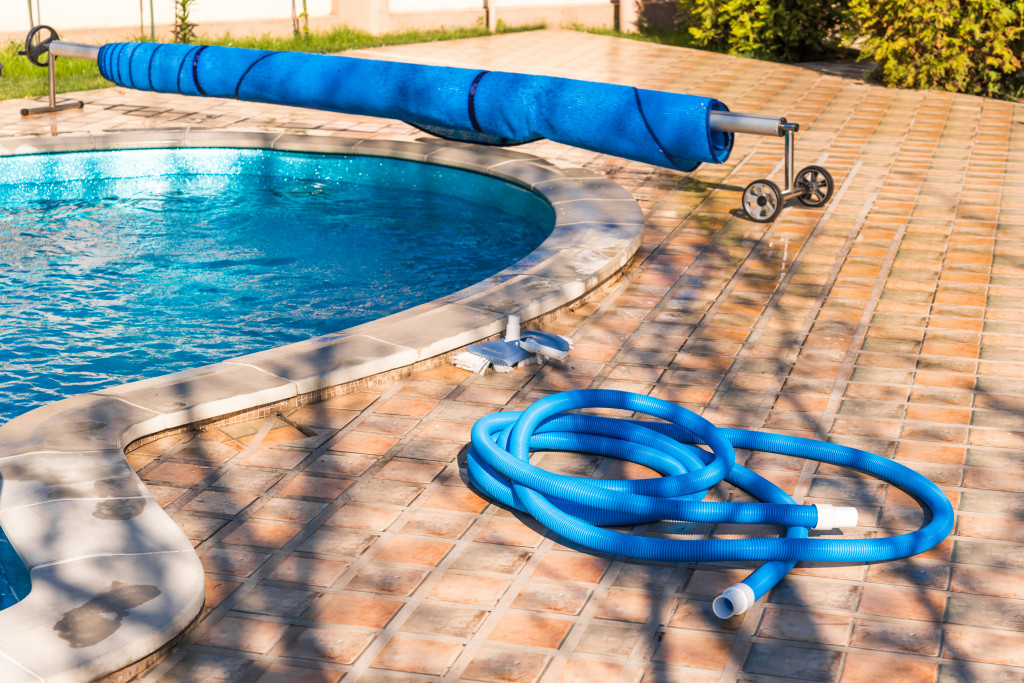 Consider the Cost
The cost of building a pool in a small backyard will vary depending on the size, shape, and materials used. But on average, you can expect to spend around $28,000 to $55,000 on the project. This cost includes the price of the materials, the cost of labor, and any other associated fees. But it does not include the maintenance cost, which can be significant at around $1,000 to $2,000 per year.
To save on cost, you can opt for an above-ground pool instead of an in-ground one. Above-ground pools are typically less expensive to install and maintain. But they will not last as long as in-ground pools and may not offer the same features and benefits. You can also try building the pool to save on labor costs. But this is only recommended if you have some experience in construction and are confident in your abilities. Otherwise, it would be best to hire a professional contractor to handle the job.
Be Creative with Decking
Another critical aspect of building a pool in your small backyard is the decking. Since you have limited space, it would be best to avoid getting a large deck. Instead, focus on getting a smaller one that will still provide ample room for sun loungers and other pool furniture. A wood deck is ideal to give your backyard a natural look. Apply deck waterproofing to keep it from warping or rotting over time. It will also allow you to use the deck during rain and protect it from the harsh UV rays of the sun.
You can also opt for a concrete deck if you have a tight budget. Concrete is cheaper than wood but can still provide a durable and long-lasting surface. You can also add some color to your concrete deck with stains or dyes. Just seal the concrete properly to prevent it from cracking or chipping.
Add Fencing
When you have a pool in your backyard, safety should always be top of mind—especially if you have small children or pets. A fence around the perimeter of the pool will help prevent accidental drownings. It's important to select the right type of fence, though. A tall privacy fence might look nice, but it won't do much to keep kids and pets out of the water! Instead, opt for a shorter fence made from mesh or glass so you can still see into the pool area while keeping everyone safe.
You can still have a luxurious pool, even with limited space in your backyard! By following these design tips, you'll be able to make the most of your small area and create something beautiful and functional.