Video podcasting has been gaining more following over the last couple of years.
Budget, audio options, and video recording specs are the most important factors to consider.
For entry-level podcasters, starting with a small podcasting camera setup and upgrading is the best option.
The best podcast camera is not always super expensive.
Whether you're just starting out as a podcaster or are looking to take your podcasts to a new level, putting your money on the table for a good camera is probably the best investment you can make.
Even though the audio capabilities are key for podcasting, adding a visual component to your podcast can help you attract a wider audience and eventually do your best to bring your unique content to life.
Stay with us as we walk you through the ins and outs of podcasting, what to look for in a podcasting camera, and a whole lot more. Finally, stay tuned for our list of the best 10 podcasting cameras!
Understanding Podcasting Camera Requirements
If you're new to podcasting, there are several aspects to bear in mind, such as visual appeal, content uniqueness, and so on. For instance, the best camera for podcasting offers sharp and clear resolution and splendid color accuracy.
Additionally, there are other considerations that constitute solid podcasting camera features, such as image stabilization, autofocus, and video resolution.
When it comes to the perks of a high-quality podcast camera, there are many, including:
Professional-looking content
Engaging audiences
Boosted credibility, etc.
According to Statista, the number of podcast listeners has been steadily growing. For example, there were 332.2 million podcast listeners in 2020, and numbers reached 383.7 million in 2021.
Plus, with video podcasts on the rise, solid camera specs are just what you need to start filming quality content and generating an audience.
Factors to Consider When Choosing a Podcasting Camera
If the time to purchase a solid podcasting camera has come, keep the following factors in mind. These will help you pick the right camera for your specific podcasting needs:
Budget: Start small and then upgrade as needed.
Resolution: Opt for at least 1920×1080 (1080p) high-definition resolution for clear picture quality.
Recording limit: A min of 30 minutes and up to 3 hours.
Frame rate: No less than 30 FPS (frames per second).
Image stabilization: Choose cameras with built-in image stabilization.
Autofocus: Look for cameras with autofocus (AF) to handle movement during podcasting.
For a podcasting camera, low-light performance and audio input options are super significant since these features can improve the overall quality of the content. Good lighting and clear audio are important for enhancing audience engagement.
For example, a podcast video camera with a low-light performance feature can deliver better image quality even in a dimly lit room, while a microphone with enhanced audio input options can help reduce background noise and provide a clearer sound.
DSLR and Mirrorless Cameras for Podcasting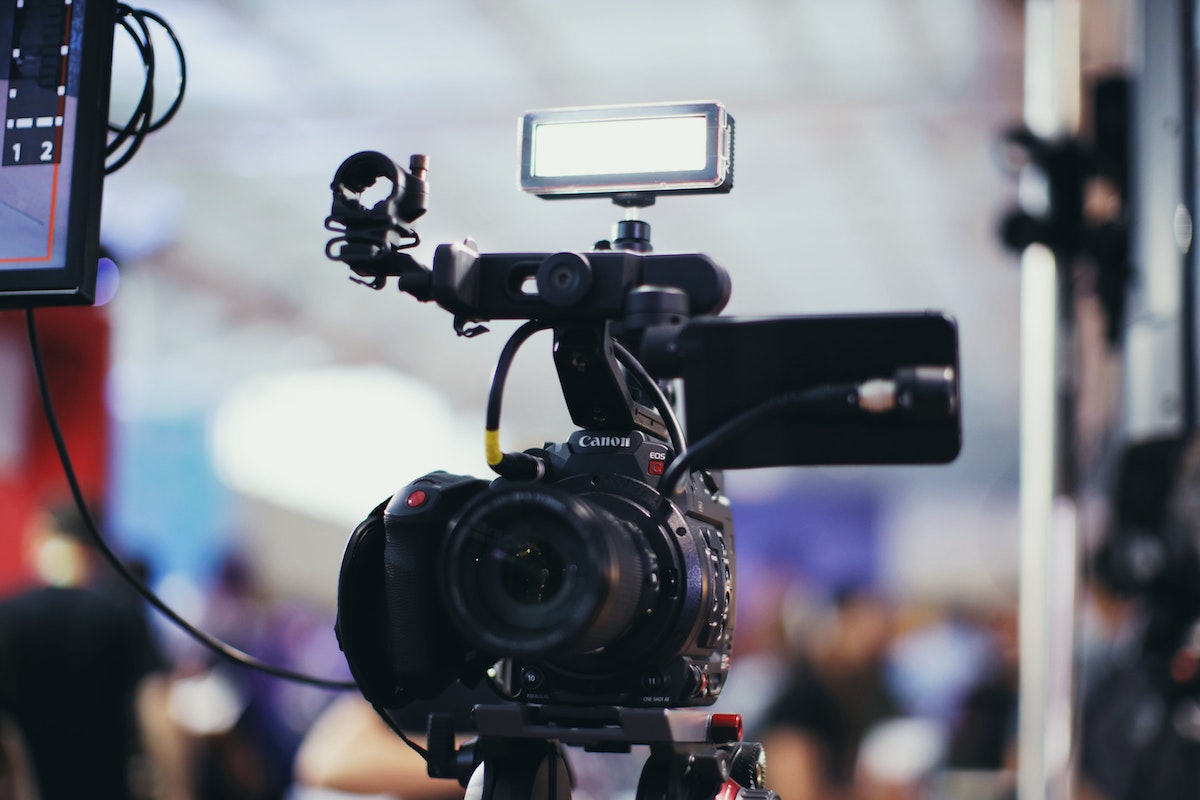 DSLR (Digital Single-Lens Reflex) and mirrorless cameras are popular video podcasting choices due to their superior image quality, versatility, and interchangeable lenses.
For example, DSLR cameras are equipped with the ideal podcasting features:
DSLR cameras use a mirror mechanism to reflect light into an optical viewfinder;
They offer superb quality images;
Wide range of lens options;
DSLR cameras are perfect for podcasters who are picky about their image quality.
On the other hand, mirrorless cameras have no mirror mechanism, which makes them less robust and super easy to handle. Mirrorless cameras are somewhat similar to DSLR cameras, with the extra perk of silent shooting and enhanced AF options, making them perfect podcast cameras for podcasters relying on mobility and ease of use.
DSLR Model: Canon EOS 90D
Key Specs:
32.5 MP APS-C sensor
4K video recording
Dual Pixel CMOS AF for smooth autofocus during video
LCD  touchscreen
Mirrorless Model: Sony Alpha a6400
Key Specs:
24.2 MP APS-C sensor
4K video recording with no pixel binning
Real-time Eye AF and subject tracking
Flip-up touchscreen
Finally, check out this expert review on DSLR vs. mirrorless cameras here.
Camcorders and Video Recording Devices
Surprisingly, you can find the best video camera for podcasting among camcorders.
Camcorders offer simplicity, an all-in-one design, and ease of use, making them ideal for podcasters seeking hassle-free recording. Dedicated video recording devices provide professional features, exceptional video quality, and precise control, catering to creators with advanced requirements.
Some of the top camcorder models for podcasting include:
Sony FDR-AX700: 4K HDR video, fast hybrid autofocus, and excellent low-light performance.
Canon VIXIA HF G50: 4K UHD recording, 20x optical zoom, advanced image stabilization
The world's most famous podcaster right now, Joe Rogan, uses the Canon VIXIA HF G50 4K30P Camcorder.
Webcams for Entry-Level Podcasting
One of the best user-friendly webcams to really spruce up your podcasts as you start off is the Logitech c930e. This particular camera for podcast delivers excellent audio quality, which is what you need in a podcast.
Additionally, these other webcams are also great picks:
Dell Ultrasharp webcam: Amazing 4K video quality
Microsoft Lifecam HD-3000: Budget-friendly, superb image quality
Razer Kiyo Pro: Super sharp image quality
Webcams gained popularity in podcasting due to their affordability, ease of use, and computer integration. They are very popular among podcasters, particularly for those starting out on a limited budget.
While statistics on how popular webcams are among podcasters aren't available, it's safe to say that, in general, webcams are used by both beginner (and famous) podcasters.
Action Cameras for Versatility and Mobility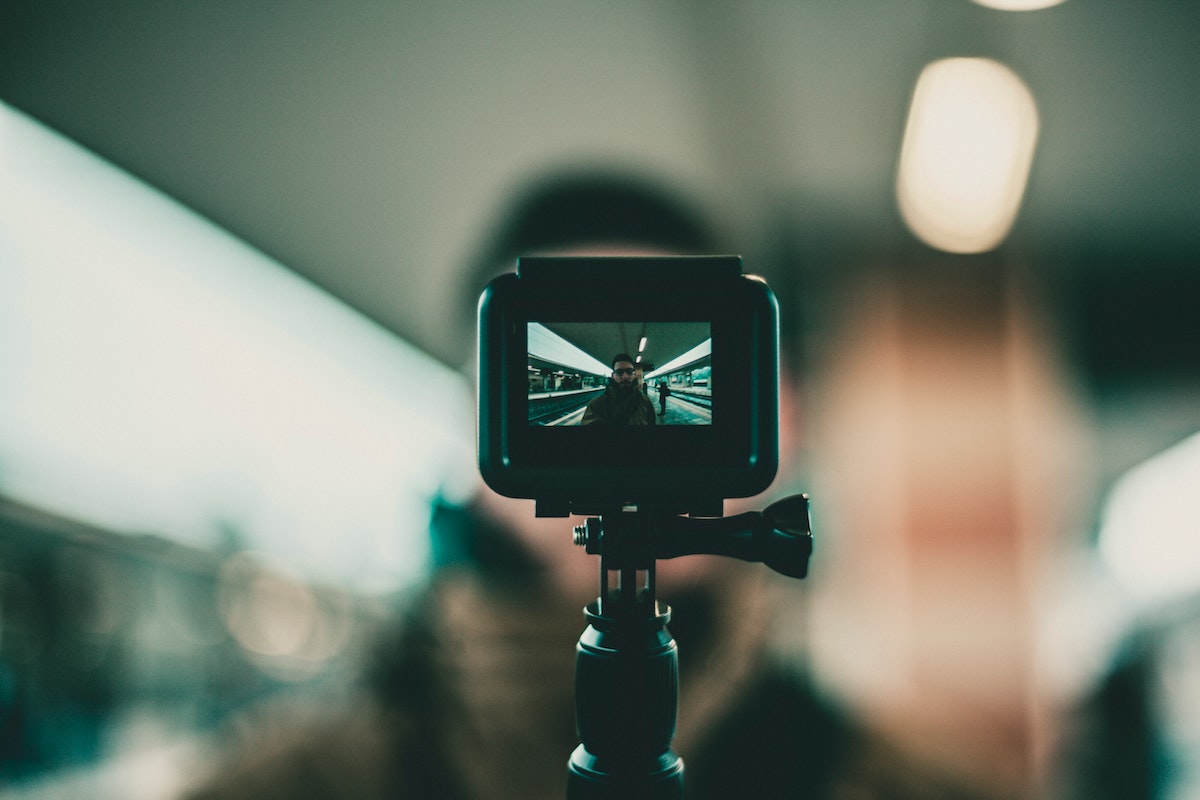 Action cameras like GoPro Hero 10 are popular options for video podcasting. These types of cameras are known for their lightweight, compact design and super-quality features. Typically, podcasters shooting their podcasts outdoors go for this type of camera.
Even though the majority of podcasts are for listening, there are some podcasters who prefer to record their podcast outdoors. In this case, the GoPro Hero is the best camera for video podcast.
Smartphone Cameras and Accessories
With today's smartphones equipped with super sharp video capabilities and stunning image quality of 40+ megapixels, it's no wonder many podcasters rely on their smartphones to record their podcasts. Plus, some of the most popular smartphone brands come with neat audio-tuning features that sharpen sound quite nicely.
Smartphones are usually the go-to podcasting method for beginner podcasters simply because they deliver solid performance when the budget is limited.
With the right tripod, a set of headphones, and a USB mic attached to a smartphone, you have yourself the perfect podcast camera setup. Check out this video as an example!
Video Camera Accessories and Setup Tips
Setting up for a podcast isn't rocket science. Consider the following tips to make sure you are doing it right:
Have a tripod or stabilization
Use an external mic
Incorporate a lighting kit
Use lens filters
Try remote shutter release, etc.
To make the most of your equipment, use soft, diffused lighting. Also, frame your subjects off-center and position the camera at eye level. Choose a background that's uncluttered and complements the theme of your podcast.
Check out this detailed guide on camera setup here.
Budget-Friendly Options for New Podcasters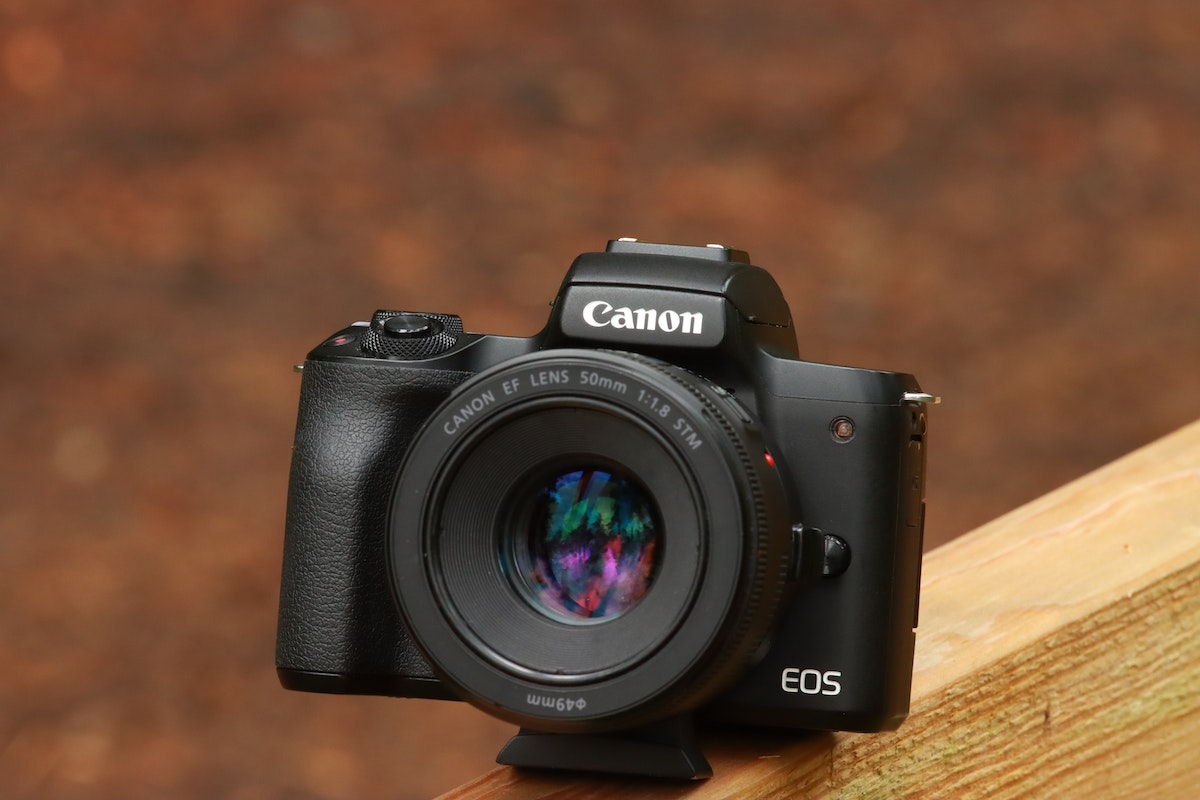 If you're just starting out as a podcaster, the Canon EOS M50 Mark II and Sony Alpha a6400 are great starting points. Both models are affordable, easy to use, and deliver solid (if not amazing) video and audio quality.
A computer (or a smartphone), an XLR or a USB mic, a pop filter or a windscreen, and headphones are all you need to start a podcast within any budget. For one, the Casefile podcast started out from scratch and grew a massive following.
Professional-Grade Cameras for Advanced Podcasters
The Sony A7S II, a full-frame mirrorless camera with 4K video, exceptional low-light performance, and advanced autofocus for professional-grade content, is a great pro podcaster camera. Additionally, there's the Canon EOS R5, a full-frame mirrorless camera with 8K video, excellent image quality, and versatile shooting capabilities for exceptional podcasting growth.
Investing in high-end podcasting cameras comes with a few perks:
Superior quality
Flexibility and creativity
Industry credibility, etc.
Check out the Camera Gear podcast for all sorts of camera reviews and upgrades.
Podcasting Camera Comparison 
Let's take a look at 10 of the best podcasting cameras delivering different features.
Kickteck Full HD 1080P
Canon EOS 5D Mark III
Panasonic HC-V770
Sony FDRAX53/B
Canon VIXIA HF G50
Nikon D3500
Sony Alpha a6000L
Panasonic X1500
Canon EOS Rebel T6
Logitech Brio 4K
Why It Made the List
Best budget pick
Best professional-grade entry
Best beginner podcast camera
Best near-professional camcorder
Best professional podcast camera
Best compact camera
Best for autofocus
Best professional camcorder
Best for short podcasts
Best webcam for podcasting
Specs
Full HD recording

16x zoom

270-degree rotation

Full HD video

22.3 MP DSLR with 61-point autofocus

ISO 100–25,600 sensitivity, expandable to ISO 102,400

Instant WiFi connection to phones or laptops

20x zoom

Full-HD Video

UHD 4K and 1080p video recording

3+ hours of recording time

HDMI output and WiFi

6+ hours of recording time

Ultra high-quality video

3-inch touchscreen

24-megapixel entry-level DSLR

Continuous shooting

Full-HD video recording

1080p full-HD video recording

24.3 megapixels

3x optical zoom

Face detection, AF

CMOS photo sensor

Wide-angle 25mm 24x optical zoom

Built-in WiFi and NFC connectivity

3-inch LCD monitor

18 megapixels

5x HD zoom

3 fields of vision

4K ultra HD video recording

Price
$65.99
$2,294
$539.99
$620
$759.99
$505
$702.09
$1697.99
$499
$191.93
Conclusion
You can film almost anything with the right podcasting camera and shooting gear. This is especially true if you're aiming to be a video podcaster and add a visual appeal to your content. ]
Depending on what you're looking for, there are some high-end cameras that really deliver what they promise (Panasonic X1500), and there are those that offer solid performance at an affordable price (Kicteck Full HD 1080p).
Whichever way you go, make sure you keep your budget, video quality specs, ease of operation, and connectivity possibilities in mind. Finally, don't forget that a good camera doesn't only serve aesthetic purposes – viewers are more likely to take you seriously with the best camera for video podcasting!