When it comes to smart home devices, it's easy to focus on the gadgets made to make your indoor space more comfortable and convenient. But there are also many smart home devices designed to make your outdoor living spaces more enjoyable and safe.
Even if you love the outdoors, sometimes you can get tired of doing yard work. Luckily, you don't have to go outside to do things like watering your garden or turning on your outdoor lights with smart home devices that can be controlled from your phone or computer.
Going smart is important. It's a sign of things to come and just makes sense when you take a look at how our lives are changing, technology-wise. Soon enough, it will be hard to even remember what life was like before we had things like smart speakers and security cameras in our homes. But that's not all — smart home devices can also make your life easier, particularly in areas like air conditioning control (smart thermostats), lighting (smart bulbs), and more.
Here are some of the best smart home devices for controlling your outdoor space, whether it's just your front porch or an entire backyard paradise!
Wireless Outlet Switches
The devices work just like any other outlet switch. But you can control your outdoor lights and other appliances from anywhere—on vacation, at a sporting event, on a camping trip, or even in bed. Outlet switches offer everything an old-fashioned light switch does, plus added convenience: Simply plug your device into an indoor wall outlet near your existing outdoor lights. Place remote controls near each light, so they're easy to grab when you're headed outside. Then get creative with scheduling options—your lights will automatically turn off if no one's home for up to 10 hours, saving energy and money.
Motion-activated Night Light
These lights are perfect for pathways and will even turn on as you approach. They also have a much longer battery life than solar-powered lights. Combined with some solar-powered pathway lights, they'll automatically turn on whenever they detect motion near your house. Solar-powered pathway lights are the types of lights that don't have a long battery life, but they do charge themselves during daylight hours and come with an automatic sensor.
That said, even if it's dark out when you get home from work or run errands in town, your walkway will be illuminated by light from these lamps.
Remote Controlled Power Outlets
If you have an outdoor room, consider installing remote-controlled power outlets in your yard that are compatible with your garage door opener. With just a push of a button, you can open and close your garage door and turn on or off your outdoor floodlights. This feature is also useful if you want to impress your friends by opening up a full bar outside when they come over for parties.
Automated Fireplace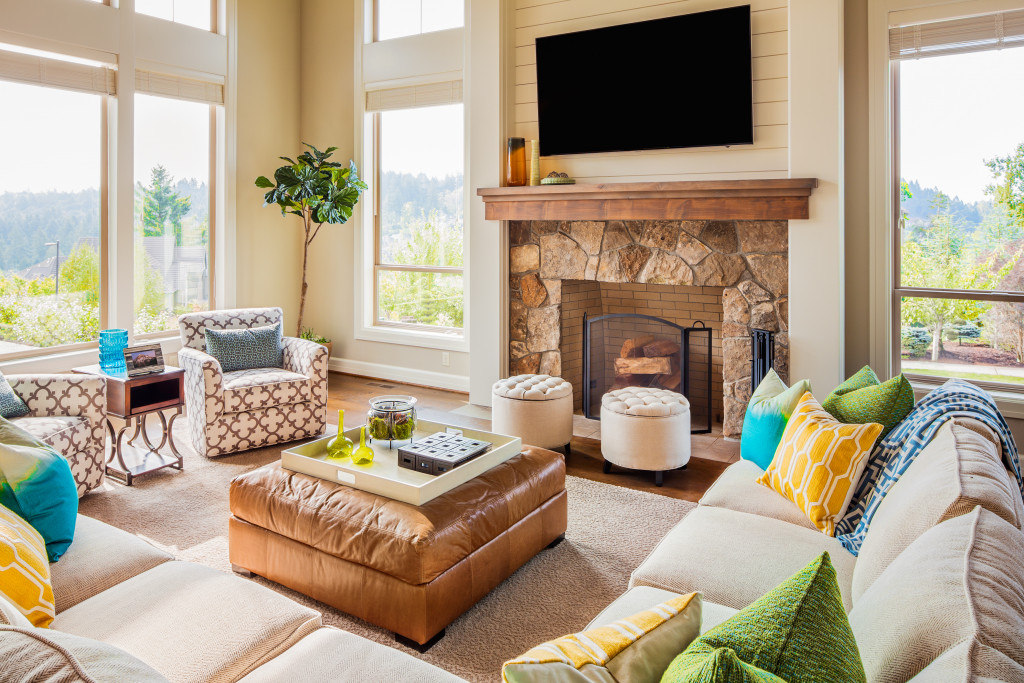 Not only does a fireplace set up a great ambiance for your space, but it can also keep you warm on a cold night. A smart fireplace lets you control every aspect of your fireplace from your phone, tablet, or computer. Have it started and stopped automatically based on a schedule or temperature changes. You can even adjust how much wood is in there from wherever you are. Some even allow you to stream Netflix or Hulu through them; so while you're sitting back enjoying that fire, you can also be watching Netflix outside with a glass of wine.
Automatic Lawn Sprinkler System
With an automatic sprinkler system, you don't have to worry about manually turning on your water spigot or setting up a timer. These devices are smart—they can determine when it rains and will automatically turn on your sprinklers based on that data. All you need to do is plug them in and let them run! The downfalls: You might experience increased water bills since these systems tend to use more resources than manual ones; they may be more susceptible to damage from animals, like raccoons. If you live in an area with freezing temperatures during certain months of the year, they may not work at all.
Automatic Robot Mower
Maybe you're not a natural gardener. Possibly it seems like you spend more time mowing your lawn than actually enjoying it. What if there was a way for your yard to take care of itself? Enter automatic robot mowers: small, self-propelled units that are battery powered and can be programmed via smartphone or tablet. If you're looking for a low-maintenance option that still offers quality results, look into getting an automatic robot mower. You can even add it as an upgrade during your next trip to visit your local gardening center
Of course, there's no beating a landscapers' service by professionals when it comes to quality and a thorough trim of your lawn. You can also ask them for more options like fertilizing, pruning, or if you want them to be able to come over multiple times in a week since automatic mowers sometimes leave dead patches or ruffle up blades of grass by running over them repeatedly.
Despite their large size, outdoor spaces don't often get as much love as indoor ones. Just because you spend a lot of time outdoors doesn't mean you shouldn't take care of it! If you are seeking a smart home system for your backyard or patio, the ones listed above are our favorite devices for all areas of your space.